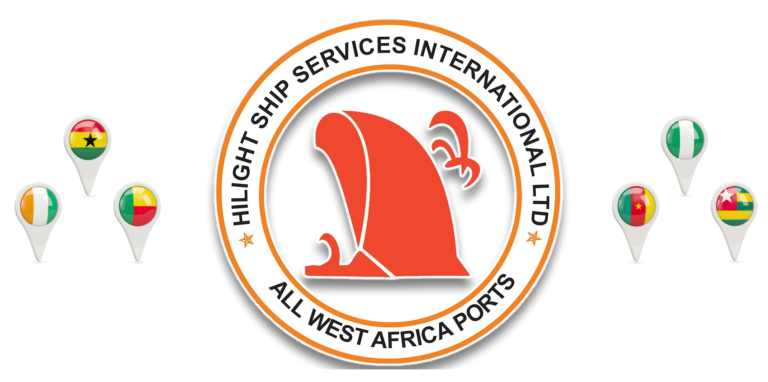 We Provide The Best Services In the West & Central Africa Coast.
OUR SERVICES ALSO INCLUDES
OUR MEMBERSHIP

[Click Here]
OUR AFFILIATES

[Click Here]
OUR CLIENTS

[Click Here]
OUR SERVICES ALSO INCLUDES
PORT AGENCY | SHIP CHANDLING | SHIP SPARES
CUSTOMS FORWARDING | VESSEL REPAIRS | OFFSHORE<br>SUPPORT
OWNERS MATTERS | LABOUR SERVICES
OUR MEMBERSHIP

[Click Here]
OUR AFFILIATES

[Click Here]
OUR CLIENTS

[Click Here]
Customs Brokerage​ | Warehousing Services | Dry-Dock Logistics​ | Port Agency & Husbandry
Truck Logistics | Chartering of Vessels | Tug Boat | Barges
Full Import & Export services​ | Port-to-port services | Customs clearance​ | General Merchant
Shipping Maintenance | Supply of Ship Parts | Project cargo | Breakbulk
Consolidation & Deconsolidation | Tank Cleaning | Delivery services​ | ship Chandling
FCL​ | LCL​ | Marine Supply | Delivery services​ | Out of gauge​
Shipping agency, chandelling and all marine supply
Ops2.nig@hilightshipping.net 
Shipping agency, chandelling and all marine supply in Liberia
info@hilightshipping.net
HILIGHT SHIP SERVICES INTERNATIONAL LIMITED – GHANA
Shipping agency, chandelling and all marine supply in Tema & Takoradi - Ghana
Ops1.tma@hilightshipping.net  shipoperations@hilightshipping.net
Shipping Agency, chandelling and all marine supply in Togo
Ops1.tma@hilightshipping.net ops.lme@hilightshipping.net
Ship Agent, Ship Chandling, Clearing and forwarding
shipops2.cmr@hilightshipping.net ops2.cmr@hilightshipping.net
Chandelling and all marine supply in Ivory Coast
Ops.abj@hilightshipping.net
Clearing and forwarding in Ghana
log@hilightshipping.net
Ship agency, protective agency and all marine service provider
attoekingsley@hilightshipping.net shipagent@hilightshipping.net
GASCARE MARINE & SAFETY LIMITED – NIGERIA
ALL Safety AND SERVICING OF Firefighting and lifesaving appliances
CLASS APPROVAL BY LIOYDS
CLASS APPROVAL BY BV 
CLASS APPROVAL BY ABS 
attoekingsley@hilightshipping.net
TMS TRANSIT – IVORY COAST
ALL CUSTOMS, HOUSE AGENCY, CLEARING AND FORWARDING IN IVORY COAST
log@hilightshipping.net
MADWIN BUSINESS & SHIPPING AGENCY – GHANA
ALL CUSTOMS, HOUSE AGENCY IN GHANA
log@hilightshipping.net
MEMBER OF HILIGHT GROUP
INCHARGE OF CHARTERING IN WEST AND CENTAL AFRICAN COAST
INTER AFRICA ONE DE TRANSIT (CIAT} SARL U LOME
OUR CORE VALUES
Delivering of quality products and services through Continues Improvement.

Customer focused and Passion for Excellence

Transparency and building Trust

Demonstrate an ongoing interest in people and their activities and recognize their contributions.

Recognize that profitability is essential to our Future Success.
We are capable to handle all industrial projects on maritime services. We find the most cost-effective way to move your products and secure your shipments. HILIGHT GROUP maintains a high standard of professionalism in services. a genuine interest in our clients needs and understand your objectives. We work to provide the best, efficient and effective of services.
HSSIL will transport goods to and from any major ports. In full container load (FCL) or less container load (LCL) freight services. HSSIL is equipped enough to handle transport challenges in ocean freight services, we move heavy, roll on/off equipments, perishable goods, hazardous containers and many more.
SAFETY
At Hilight Group, we strive to create and maintain a work environment where accidents are unlikely to occur, and the health and safety of employees, customers contractors and the public is not endangered in anyway.

LOYALTY
At Hilight Group, we work collaboratively with our employees, technical partners, industry regulators, statutory agencies, host communities, suppliers and our customers to solve problems and achieve predetermined goals.
PROFESSIONALISM
At Hilight Group, we consistently commit to training and retraining of employees as a means of equipping them with requisite skills and abilities needed to enable them deploy high standards performance that is expected of them by our clients.
ENVIRONMENT
At Hilight Group, we ensure that our operations are environmentally friendly and responsible. To this end, the management of the organization plans and implements programmes strategically designed to promote environmental suitability and sustainability.
INTEGRITY
As a rule, we ensure that all our employees in the course of discharging their routine duties exhibit biggest levels of honesty at all times and also acknowledge legal and personal responsibility to colleagues, Hilight Group, stakeholders, government, customers, host communities and the environment.
EXCELLENCE
At Hilight Group, we consistently research for and create better ways of doing what we do best in order to guarantee enhancement of the satisfaction of our customers.